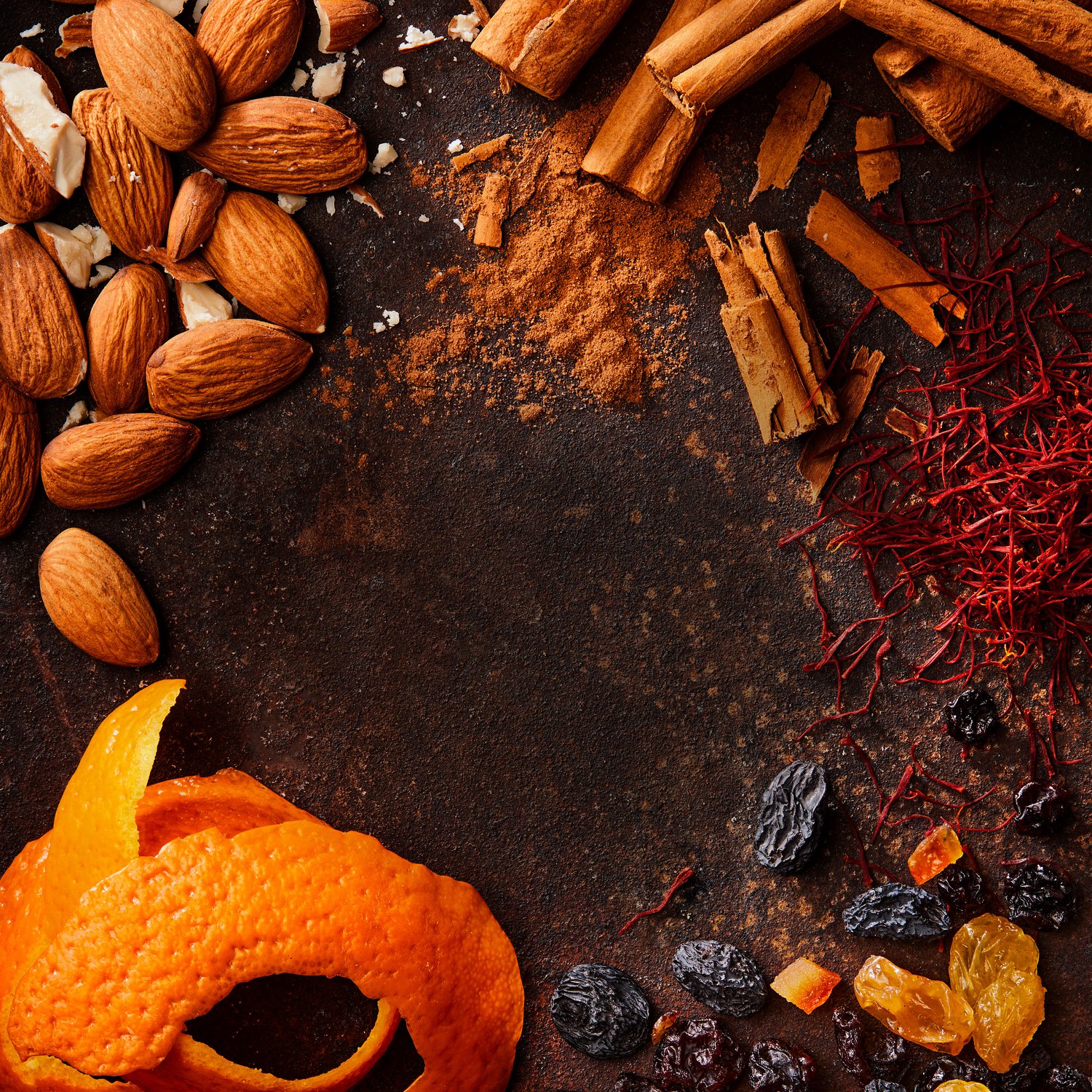 Long before the Easter bunny hopped along with its chocolate eggs, people in all corners of the world forged unique Easter baking traditions. They raided the cupboards for sugar, spice and all things nice: foods that were expensive and prized, and felt fitting for a special occasion. Today such ingredients are far more easily available, but sharing the diverse breads, cakes and pastries they infuse and inspire is still a treasured part of the celebrations.

Golden saffron, scrolls of cinnamon and those all-important almonds – these are the celebratory ingredients that bring Easter baking to life.
Cinnamon
There are few kitchen staples as visually pleasing as sticks of cinnamon, each one its own tightly curled, copper-coloured scroll. It's hard to believe that this gentle spice from the island now known as Sri Lanka was once so exalted that wars were fought about it and tall tales spun around it; one ancient Greek writer claimed that Arabian birds used the sticks to build clifftop nests.
A sprinkle of cinnamon finds its way into Easter bakes in almost every nation; in Britain, hot cross buns just wouldn't taste the same without its hum of woody warmth. There's a symbolic dimension, too; in Mexico, a classic Easter dessert is capirotada – a comforting bread pudding soaked in a sugary syrup infused with cinnamon sticks
Despite its obvious star quality, cinnamon is also a team player; you'll often find it alongside close friends such as nutmeg, ginger and cloves, which it brings together in sweet, aromatic harmony.
Saffron
It's just as well that only a tiny pinch of saffron is needed to enjoy its vivid orange-red colour and pungent flavour, because it is an extraordinarily labour-intensive ingredient. The slim, fragile threads are the stigma of a particular variety of crocus flower and are traditionally harvested by hand in the dawn light, before the heat of the sun scorches them. With only three threads per bloom, more than 150 flowers are needed to yield just one gram of saffron. Small wonder that the precious jar has historically been reserved for high days and holidays.
In the West Country, the expensive spice is shown off at Easter in saffron cake and buns – preferably with a thick layer of golden butter or a dollop of clotted cream. And in Eastern Europe, a few fragrant strands are often used to flavour the dough of paska – tall, striking Easter breads.
Waitrose
The slim, fragile threads are harvested in the dawn light."
Oranges
Bright citrus brings the promise of sunnier days ahead. Norwegians go into an orange frenzy at Easter, polishing off some 20 million in just a handful of days; in times gone by, it used to take until spring for juicy oranges to make their way from southern Europe to the chilly north, so the fruit and the season are woven together in people's minds.
This burst of orange joy has echoes across the world. A scraping of vibrant zest finds its way into Easter breads, such as the brioche-like Greek tsoureki. In Italy, a country that takes Easter baking very seriously, families crowd around the table for a slice of pastiera napoletana, a ricotta tart fragrant with orange-blossom water.
Almonds
This delicate nut is the decoration of choice for all sorts of Easter centrepieces, from Argentina's rosca de Pascua rings to Italy's colomba, a sweet bread shaped like a dove. But almonds really come into their Easter stride when ground, combined with sugar and transformed into marzipan. A fat layer of this sweet, sticky paste – plus an army of plump marzipan balls to represent the disciples – is the crowning glory of simnel cake. In Malta, buttery Easter cookies called figolli are stuffed with it. But the true kings of marzipan live in Sicily, home of many beautiful almond trees, and where a tradition of making decorative marzipan lamb models for Easter stretches back generations. Some confectioners still blanch, peel and grind the almonds to make the marzipan themselves, then spend hours hand-painting the lambs with exquisite colours and details.
Waitrose
Golden saffron, scrolls of cinnamon and those all-important almonds – these are the celebratory ingredients that bring Easter baking to life."
Vine fruits
A heavy pack of dried'mixed fruit'– raisins, sultanas and currants, often with a sprinkling of candied peel – sits handily in many kitchens today, but this family of dried vine fruits was once expensive to obtain and arduous to use. They came from the sunshine lands of the Mediterranean and Levant full of dirt and grit, often still encumbered with stalks and seeds; one 1902 book instructed the reader to soak them, then 'drain and rub each raisin between thumb and finger till the seeds come out clean', before drying. Still, we adored them, especially at Christmas and Easter; on top of the obvious favourites, there is a sprawling family tree of subtly different regional fruited bakes, many now sadly forgotten. In Jamaica, the hot cross bun equivalent is 'Easter bun' – a fruited, spiced loaf, often served with a chunk of cheese. The savoury-sweet combination gets the nod of approval in Italy too, where the Tuscans make pan di ramerino, sticky buns studded with juicy raisins and fragrant rosemary.