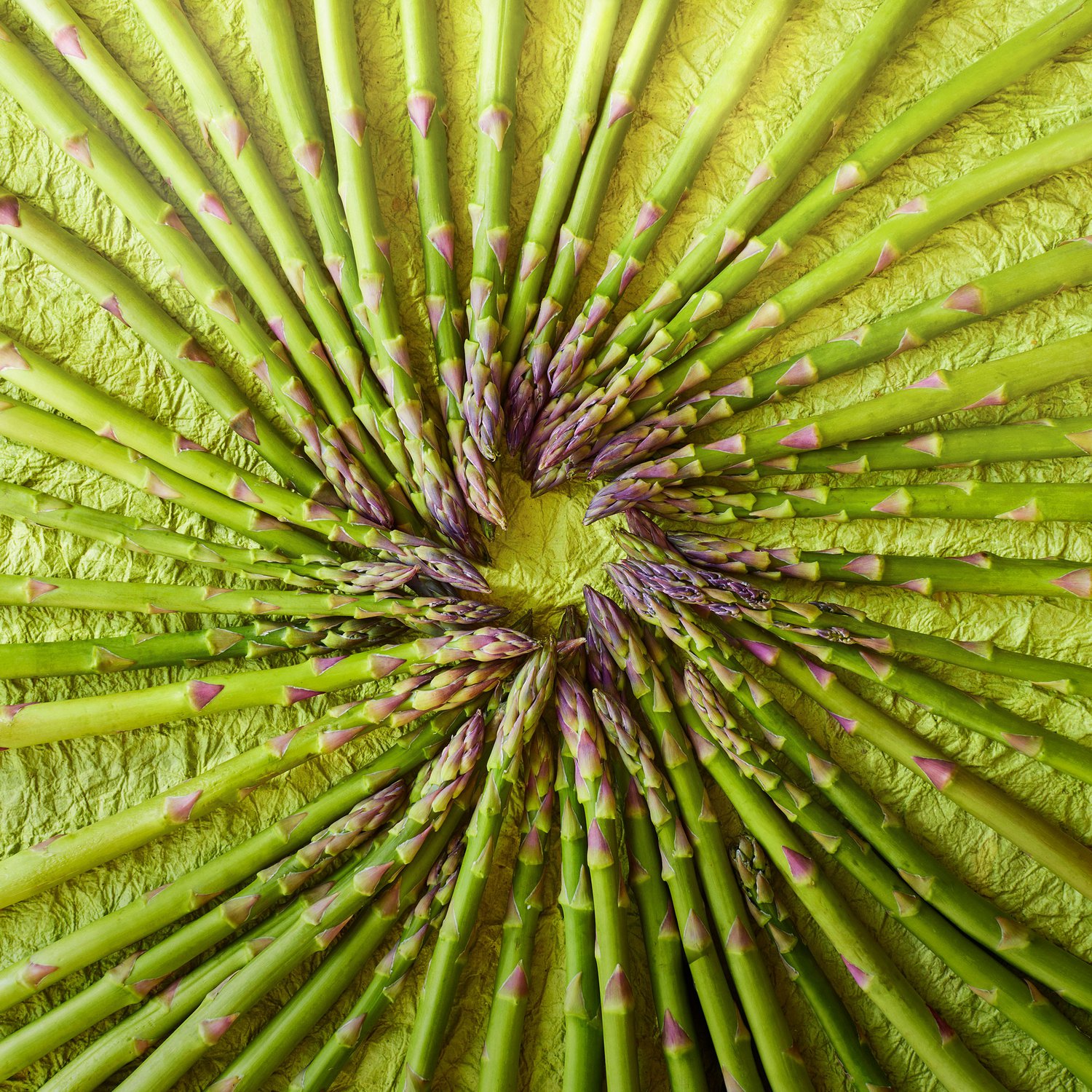 Few vegetables herald the approach of summer as joyfully as asparagus. The distinctive green spears don't need much input to shine: they are a treat simply steamed and dressed in olive oil or butter, but their unique flavour also makes them a welcome partner for everything from fish to salty cheese – plus they work equally well raw in salads. Removing the woody ends of the spears before cooking is easy: bend the spear and snap the end off just where it naturally wants to break, generally around 3cm from the base.
Asparagus contains prebiotic fibre, which provides fuel for beneficial gut bacteria. Research has shown that maintaining a diverse, balanced gut microbiome may be key to supporting our immune system, along with having potential benefits to our digestive, metabolic and brain functions.
A diet high in fibre can help to reduce the risk of obesity, cardiovascular disease, type 2 diabetes and bowel cancer. Eating plenty of high-fibre vegetables, such as asparagus, will help you reach the recommended daily fibre target of 30g.
An 80g serving of steamed asparagus provides almost half the adult recommended daily allowance of folate (vitamin B9), which is essential for producing healthy red blood cells and DNA within all cells.
Eating high-fibre, non-starchy vegetables helps keep us feeling full, and may prevent the overconsumption of more energy-dense foods.
Asparagus is a source of vitamin C, which is important for maintaining healthy collagen formation and beneficial for blood vessels, gums, teeth, bones and skin.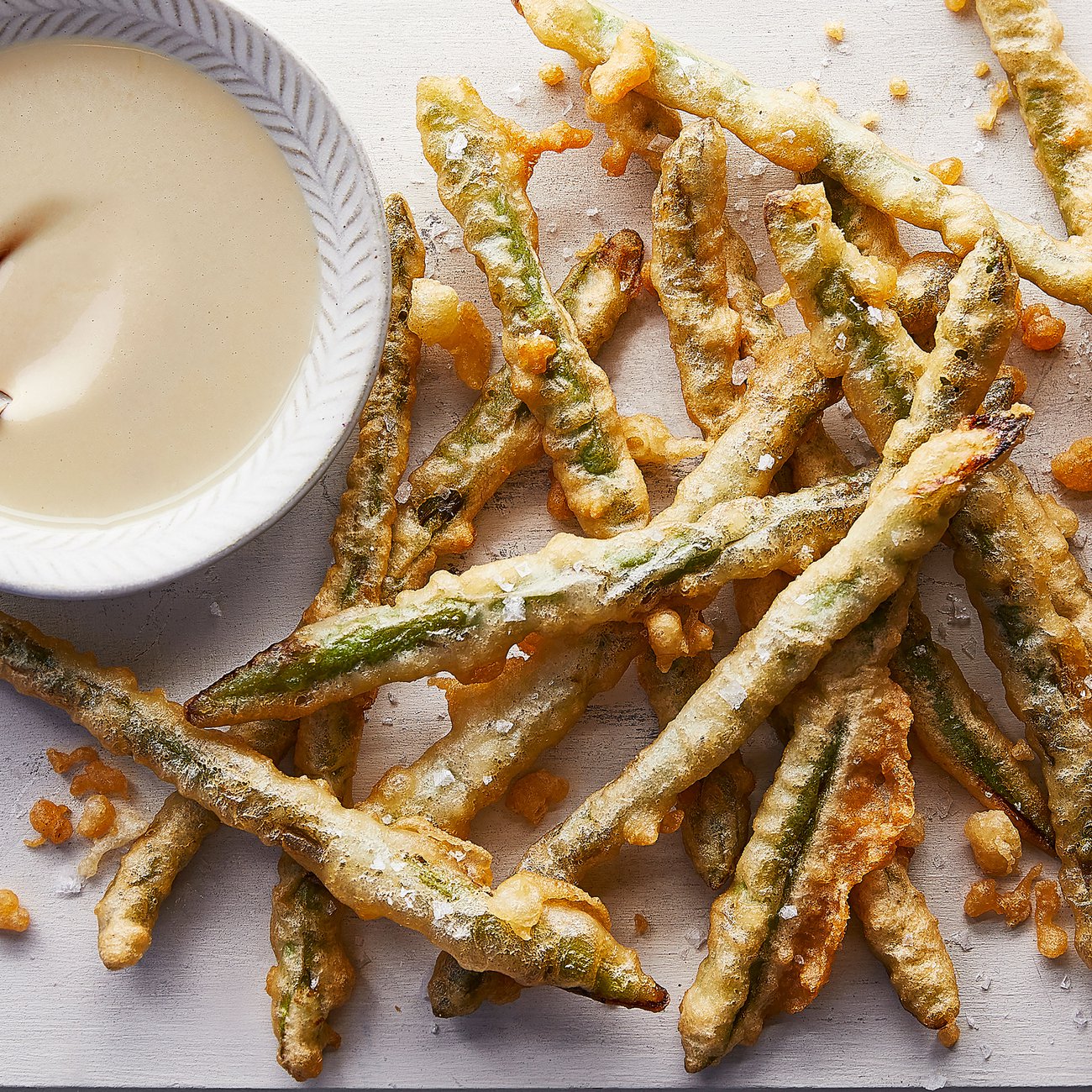 [ Asparagus tempura with bagna cauda ]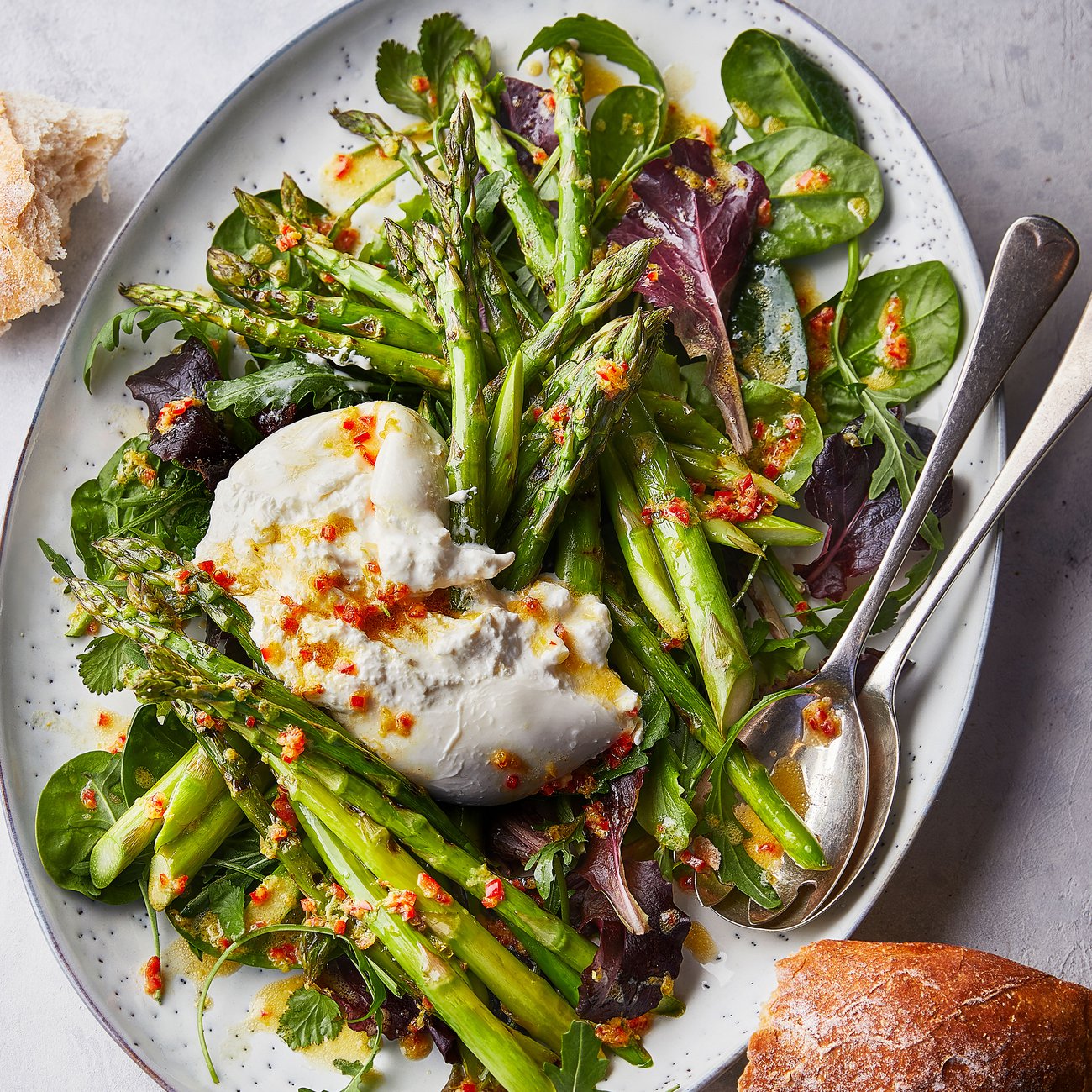 [ Grilled asparagus with burrata, lemon & chilli ]
FIVE WAYS TO USE ASPARAGUS
1. Steam in a single layer for 2-3 minutes, or until just tender. Steaming asparagus (rather than boiling) helps retain its vitamins and minerals. Just add soft-boiled eggs for dipping.
2. Lightly brush the spears with a little oil, season, then griddle for 1-3 minutes (depending on thickness), turning regularly until tender and lightly charred. Drizzle with homemade tzatziki (or pick up one from Waitrose!) or romesco sauce and serve alongside grilled fish or steak, or add to salads.
3. Chop the asparagus into short lengths and stir fry briefly. Add a little crushed garlic, then stir the mixture through cooked pasta along with a generous serving of cooked peas, crumbled feta and a scattering of finely chopped mint.
4. Use a Y-shaped peeler to pare uncooked spears into long, thin ribbons. Season, dress with extra virgin olive oil and a squeeze of lemon juice, then mix through finely grated pecorino, torn basil leaves and toasted seeds to create a simple salad.
5. For a speedy lunch or light supper, boil spears in a little salted water, then drain and toss through a pouch of cooked puy lentils, adding a handful of salad leaves, a few chopped radishes and a sliced boiled egg. Drizzle over a light, mustardy French dressing.