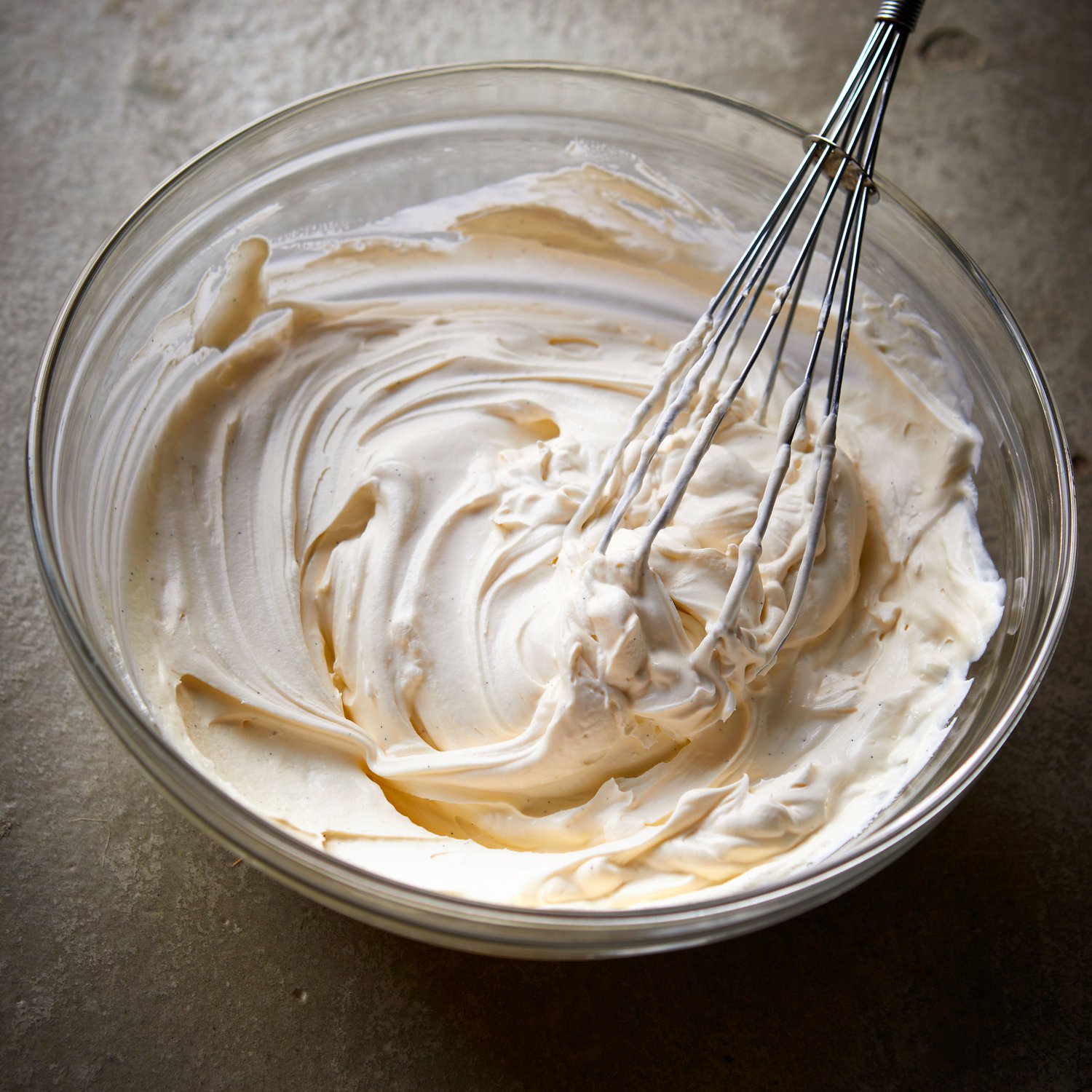 Pro tips, smart shortcuts and kitchen know-how to make you a better cook...
EVERYBODY FREEZE!
Condensed milk is your secret weapon when it comes to no-churn ice creams; it acts as both a dairy base and sweetener. In ice cream machines, the mixture is constantly moving as it freezes, preventing water crystals from forming and making it icy. Because condensed milk has a comparatively low water content (compared to a traditional custard base), crystals don't form as it freezes, resulting in a smooth, scoopable texture, without the need to whisk or churn in a machine.
WHEN LIFE GIVES YOU LEMONS…
We're all guilty of letting citrus shrivel in the fruit bowl… If you can't zest, juice and squeeze quickly enough, slice your lemons, limes, oranges and grapefruit, arrange on a tray lined with baking parchment, freeze, then transfer to a freezer bag once solid. Pop into drinks to double up as ice.
THE RIGHT WEIGH
Want to be more precise in your measuring to ensure top results? Water and other liquids with a similar density (such as milk and orange juice) measure the same in grams as in millilitres, so use electric scales for accurate measuring.
Waitrose
Did you know that the hottest part of a chilli is the white inner flesh (known as the placenta or pith), not the seeds?"
PRO PASTA
Give your home-cooked pasta an expert edge with these pro tips...
Don't stint on the salt
Dried pasta is usually made of just flour and water (although egg is sometimes also added) so it lacks inherent flavour. It's therefore key to ensure the cooking water is generously salted – it should taste briny.
Al dente
Texture is crucial: al dente means 'to the tooth'. Your cooked pasta should retain a slight 'bite' – sogginess is the enemy.
Don't ditch the water
Reserve a mugful of the pasta-cooking water and add a splash to your sauce. Its high starch content is what gives the finished dish that magical silky texture.
It's a toss up
Mix well before serving for a gorgeously glossy sauce that clings to every bit of pasta. Tip the drained pasta into the pan of sauce (adding some pasta water) and vigorously toss together. Bonus chef points if you finish the sauce with a little extra olive oil or butter.
Waitrose
Filling piping bags with icing can be a messy job, so here's a trick to make it easier: place the bag into a tall glass, nozzle-end down, then fold the end of the bag over the edges. This makes the bag sturdier and so much easier to fill."
HOW TO COOK THE PERFECT BOILED EGG
Ensure that your eggs are at room temperature. Half-fill a small pan with water and bring to the boil. Use a spoon to carefully lower the eggs in and set your timer as follows...
Soft-boiled
5½ minutes (ideal for dippy eggs)
Medium soft
7 minutes (good in salads)
Hard-boiled
9 minutes (use for egg mayonnaise)
Waitrose
Massaging kale leaves might sound eccentric, but it helps to break down the tough cell structure, making them more tender and easier to digest. Toss kale with a pinch of salt and a squeeze of lemon juice, then massage the leaves gently for a minute before tumbling into a salad or adding to a traybake."
BOOST YOUR 5 A DAY
Sneak extra veg portions into snacks, suppers and breakfasts with these savvy tips...
Houmous with more oomph…
Chuck roasted root vegetables, such as sweet potato or beetroot, into a blender with canned chickpeas. Whizz until smooth, adding a little garlic, ground cumin, lemon juice, olive oil and tahini. Enjoy with vegetable crudités for dipping.
More veg, (a bit) less pasta…
Cook cubes of courgette, aubergine or winter squash (or all three!) with a little olive oil until very tender – this can be done on the hob or in a roasting tin in the oven. Fold into sauces such as puttanesca or tomato and garlic before tossing through a little less pasta.
Freshen up your frittata
Cram more green veg into a frittata: soften sliced salad onions in an ovenproof frying pan in a little oil, then add enough finely sliced asparagus and frozen peas to half-fill the pan. Wilt in a handful of spinach leaves, then fill in the gaps with beaten egg, shuffling the pan to spread it out. Bake at 180°C, gas mark 4, for 20 minutes until set. Cut into slices and eat warm or cold at any time of day.
Good morning
Start the day well with some veg in your smoothie bowl. Try including greens such as spinach or kale, cucumbers, celery or carrots.
Waitrose
Plain unwaxed dental floss is surprisingly useful for slicing bun dough, sliding through without squashing or tearing. Shimmy lengths of floss under the log of dough at intervals, then pull the ends of each length up and over, crossing each other to cut through."
STALKS & ALL
Throwing your veg stalks away? Stop! Finely slice broccoli and cauliflower stalks or cabbage cores and add them to stir-fries or traybakes. Alternatively, try quick-pickling them in vinegar, salt and sugar to add zing to salads. They also blend beautifully with nuts and lemon zest to create a pesto – stir through roast veg or pasta for a flavourful fibre hit.
FINE LINING
Here's a simple way to line a square cake tin: measure out two lengths of baking parchment that are long enough to run up the base and sides of the tin with a little overhang. Trim them so they are the same width as the tin, then layer them in a cross pattern, one on top of the other, so that each side is covered in baking parchment. The base layer can usually be reused to avoid waste, and you can use the overhang on the top layer to pull the cake out once it's baked.
Waitrose
Leave your pancake batter to rest for 20 minutes before you cook it. This allows the gluten in the flour to relax and the mixture to hydrate, creating a light, even texture."