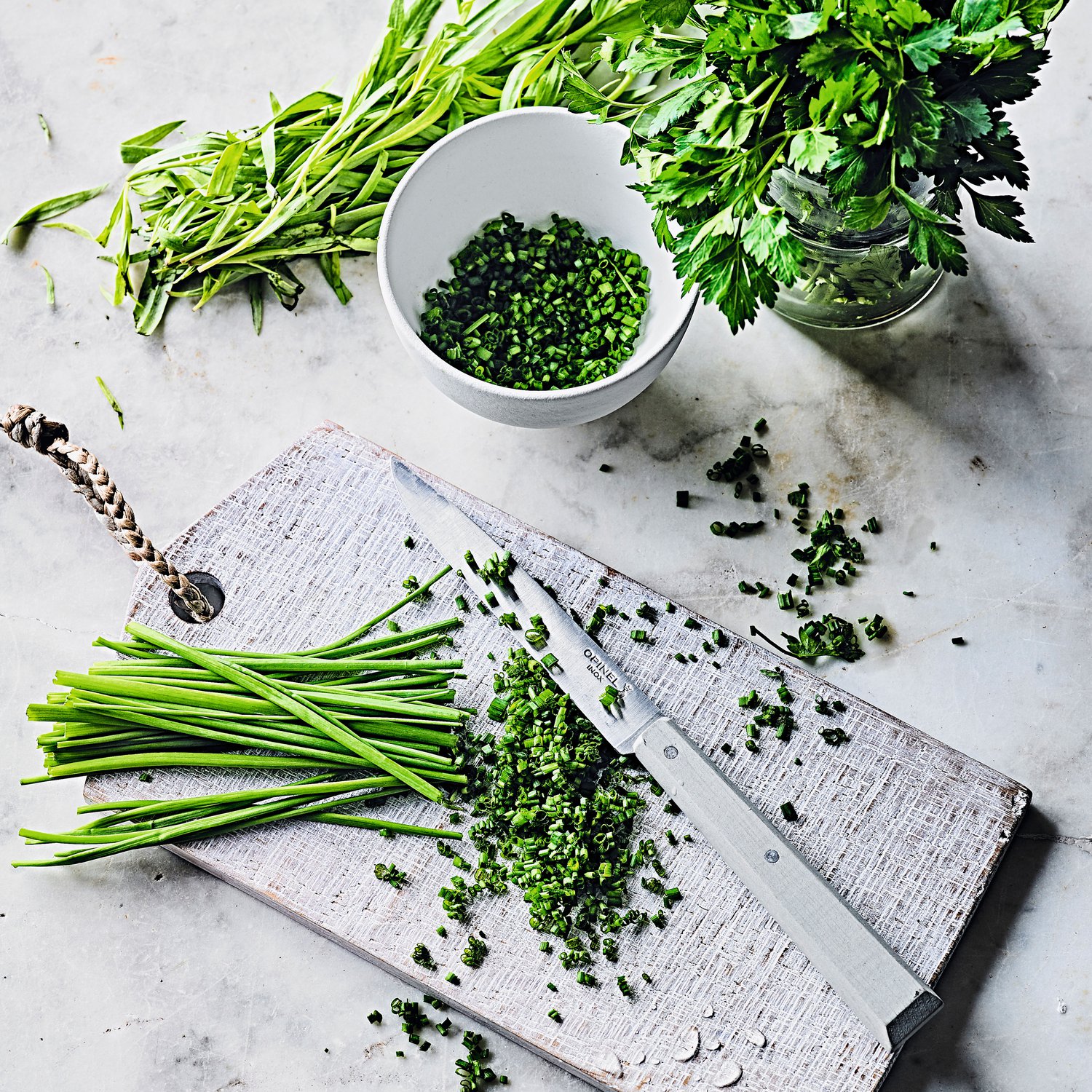 Small is mighty when it comes to aromatic herbs. Snip and scatter your way to deliciously vibrant disheswith some of our favourite herbs.
CHIVES
Bright green and looking rather like thick blades of grass, chives are actually the smallest member of the onion family, hence their perky, savoury flavour. Raw, they add a hit of freshness, cutting through rich foods such as cream, eggs or oily fish. Just snip them over velvety sauces or melted cheese before serving to add prettiness as well as flavour. The little green stems can be lightly cooked, too, with a resulting flavour that is mellower but just as satisfying when added to cheese scones or savoury pancake batters.
FLAT LEAF PARSLEY
Often relegated to garnishes, parsley's fresh, grassy flavour is worth celebrating in its own right. Whizz the leaves into a pesto with walnuts; scatter with abundance through salads; and use in marinades for meat. While the leaves add to the visual appeal, don't discard the stalks – they are full of flavour and make a judicious addition to the base of stocks and risottos.
How to make the most of parsley
This pretty leaf is used liberally in Levantine cooking, often alongside mint. Make a classic tabouleh by tossing both herbs through cooked bulgur wheat alongside diced ripe tomatoes and salad onions. Dress with lemon juice and olive oil, season then finish with a handful of pomegranate seeds. Enjoy with a mezze spread or alongside grilled lamb chops or white fish.
Parsley's freshness makes it a great partner for citrus fruits, especially in a zingy gremolata with lemon and orange zest, plus a little crushed garlic. Use to garnish salmon or toss through roasted veg.
For a versatile sauce, stir a handful of finely chopped parsley into a tub of ricotta along with lemon zest, finely sliced salad onions and a little lemon juice. Season and enjoy stirred into scrambled eggs or pasta.
Waitrose
Parsley's fresh, grassy flavour is worth celebrating in its own right."
TARRAGON
Known as 'the king of herbs' in France and used abundantly in classic recipes such as béarnaise sauce, chicken chasseur and sauce gribiche, this delicate, aromatic herb is often overlooked elsewhere. Tarragon's anise flavour is subtle, especially when cooked into a mellow sweetness. Try it in springtime stews with peas and beans, add to scrambled or baked eggs, and use in creamy sauces for fish. It is most often partnered with poultry though, where its understated flavour works a special kind of magic.
THYME
Heady and aromatic, thyme is one of the most versatile woody herbs for cooking, adding an earthy sweetness wherever it goes. There are few foods that don't benefit from a little thyme – the leaves add flavour to potato dishes, roasted vegetables and even bread. The herb's robust nature means it can also withstand a fair amount of heat, so add sprigs to slow-cook meats and stews, or use to stuff whole chickens or fish.
How to make the most of thyme
Thyme works well in both sweet and savoury dishes. Try adding a pinch of chopped leaves to a simple Victoria sponge batter. Sandwich the baked cakes with whipped cream and strawberries macerated in a thyme-infused syrup.
Salmon or tuna are lovely with added aroma from thyme. Marinate the fish for half an hour with a few sprigs of thyme and some lime zest, grated fresh root ginger, garlic and olive oil. Roast or pan-fry, then serve with lime wedges for squeezing over.
Add a few sprigs to dried beans and pulses as they simmer, scatter a pinch of chopped leaves into a tomato or sweet pepper sauce when bubbling, or add a sprig or two to butter as it browns before drizzling over grilled chicken.
MINT
The ultimate in freshness, cooling mint is widely used across the world; it's at its most vibrant during the warmer months. Mint cuts through rich meats such as lamb, and also works well in summery soups and punchy Asian salads. Young, soft leaves can be eaten whole but larger ones will need shredding; do this just before serving as they blacken quickly. Mint partners well with sweet flavours such as strawberries or peas, as well as dark chocolate, and is delicious in ice cream and teas.
Waitrose
Heady and aromatic, thyme is one of the most versatile woody herbs for cooking."