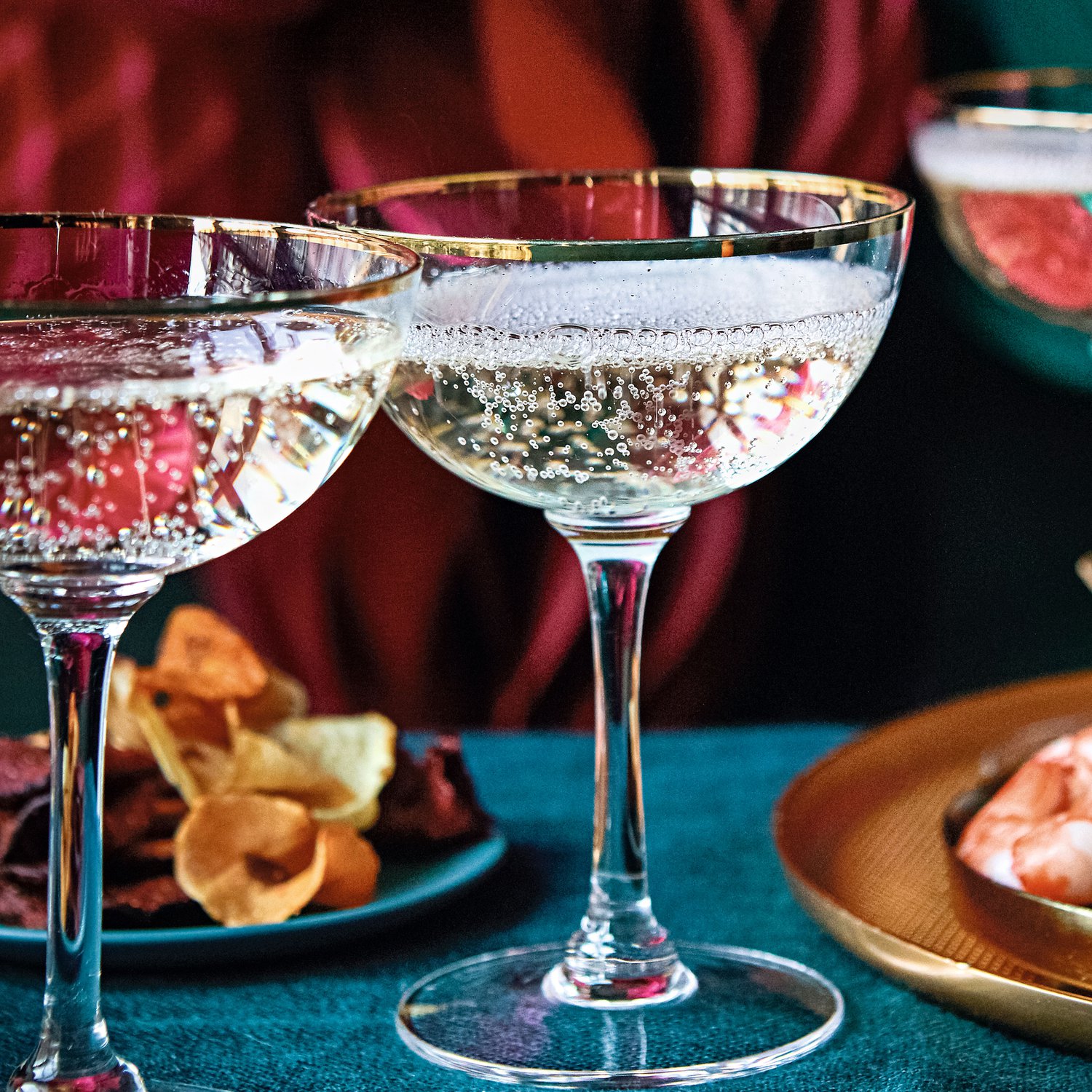 So you've decided to host a New Year's Eve party! The narrative surrounding a party implies you should be spending days in the kitchen, that your house must be sparkling, that your hosting must be unflappable. It can be a hard narrative to shake.
We're here to tell you that a bag of sharing crisps and a few of your favourite people in your living room constitutes a party, but we do have some tips for seeing your gathering through in low-stress style, in case you've got something a little more ambitious in mind…
1. Clear a freezer drawer or shelf before the party. We promise you that someone is going to arrive halfway through the evening with a warm bottle of something – so it pays to be prepared. It means you'll have plenty of space for ice too.
2. Keep the lighting low. This may sound lazy, but putting the big light on is a sure-fire way of highlighting dusty corners. Instead, light candles, embrace lamps – attribute it all to keeping things moody – and you won't feel like you need to run around the house with a duster just before people ring the doorbell.
3. Decide early on what you want the culinary mood of the party to be: a shared pot of chilli and a selection of toppings that people dip into; dainty canapés designed to be passed around; or what we like to affectionately think of as 'school buffet' – a table with little quiches, things on sticks, and cheese and crackers laid out. Picking a direction will clarify your menu and prevent you from overcatering.
Waitrose
Decide early on what you want the culinary mood of the party to be."
4. Make your life easy where you can. Buy in crisps and nice olives, and jazz up ready-made dips by spooning them onto a plate or flat bowl. Top houmous with good olive oil and dukkah, finish taramasalata with some capers fried in olive oil until crisp and make tzatziki even better with fresh dill and coriander, plus a sprinkling of toasted cumin seeds.
5. Bring the party into the kitchen. You will be busy at various points throughout the evening, stirring something on the hob, taking food out of the oven, or putting things on plates, so why not invite your closest friends to join you. Once they're there, don't martyr yourself alone; give them jobs too. People really do like to feel useful.
6. Don't feel like you have to bake. Unless it's the bit you most look forward to, it's just not necessary.
Waitrose
Ask two friends to come an hour early to give you a low-key start to the party."
7. Pick two friends on the guest list and invite them to come an hour early. They're the people you'll text if you need extra ice, or you realise you're missing an ingredient. These early guests will also give you a low-key start to the party, plus they'll be on hand to open the door and entertain guests while you're pulling things together at the last minute (very useful if your right-on-time arrivals are not people you know especially well).
8. If you have the energy before bed, fill a bowl with hot water and drop all the cutlery you can find into it. It will help you resent the washing up a little less in the morning.
Waitrose
Make your life easy where you can."