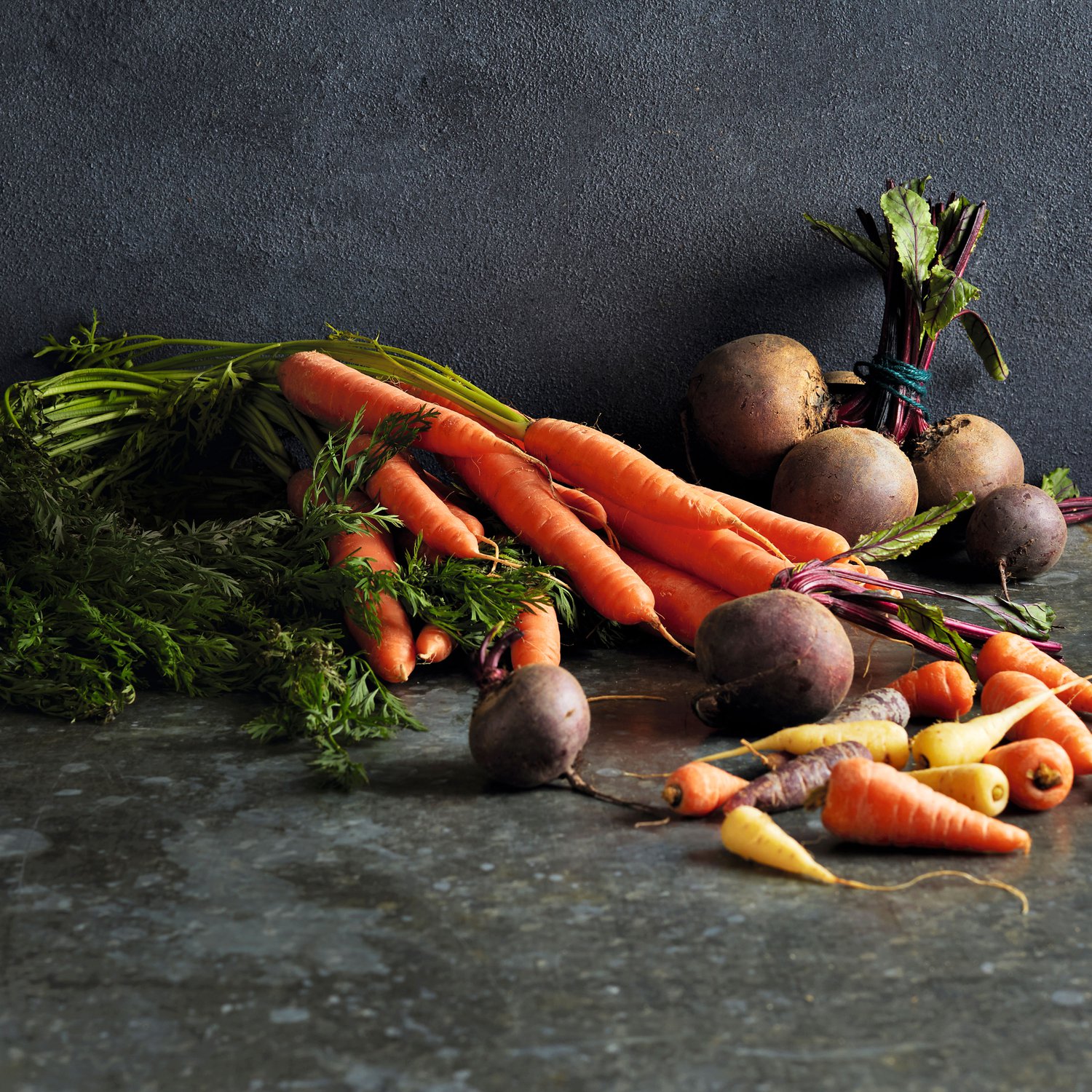 Around a third of the food we produce globally is wasted, which has a direct impact on climate change. Everyone can play their part, so here are 99 ideas to help make the most of the food you buy.
THE FRUIT BOWL
1 When you have more fruit than you need, make smoothie packs for the freezer. Bananas, mangoes and plums all work well. Cut fruit into small pieces, then pop a selection into a freezer bag. When you're ready to make your smoothie, add a little juice, milk or natural yogurt to make the frozen fruit easier to blend.
2 Stew fruit that needs eating to make a crumble or compote to add to plain yogurt. Stewed fruit will keep for five days in the fridge, and also freezes well.
3 Once a pineapple has been cut up, store the pieces in an airtight container for a few days in the fridge to stop them from going brown, or freeze them.
4 Bananas are one of our most wasted food products. Freeze overripe bananas in chunks for an instant 'ice cream', then blend from frozen with a little peanut butter.
5 That lonely looking apple or pear will be lovely chopped up and heated through in a saucepan with some butter, brown sugar and cinnamon – a perfect porridge topper.
6 Store berries dry in the fridge, and wash them only just before eating. Any sooner and the residual water will cause them to spoil.
7 Why not make lollies with overripe fruit? Heat in a pan with a little water and honey, then blitz and pour into moulds.
8 Make banana pancakes. Mix two overripe bananas, two eggs and ¼ tsp baking powder. Drop small amounts of the mixture into an oiled pan for two minutes each side.
9 Keep unripe mangoes out of the fridge, but once ripened, you can move to the fridge to slow down the ripening process.
10 Did you know that you can freeze citrus fruit? If you're only using half a lemon, cut the rest into slices, freeze flat on a tray then bag ready for use, or freeze in ice cube trays with water for a tasty addition to drinks.
11 Glut of berries? Freeze loose on a tray (so they don't stick together) then bag up and keep in the freezer. You can use them in puddings, on porridge or just blend from frozen with yogurt and honey.
Waitrose
That lonely looking apple or pear will be lovely chopped up and heated through in a saucepan with some butter, brown sugar and cinnamon – a perfect porridge topper."
EAT YOUR GREENS
12 Salad leaves or celery looking sad? Try plunging into ice-cold water for 15-20 minutes, then drain to bring them back to life.
13 Rocket or other dark green leaves can be frozen from fresh and added to sauces, stir fries and wilted, as you would spinach.
14 Serve leftover salad leaves by wilting them on the plate under a cooked fillet of fish.
15 Don't chuck the tough stalks from greens – slowly braise them in stock for a tasty side.
16 Slightly overripe avocados are great for guacamole, or freeze yours whole, half or diced and mashed with a squeeze of lemon to be used at a later date.
17 Tomatoes, peppers and cucumbers which need using make a great homemade salsa.
18 Roughly chop any remaining coriander leaves and stalks, then freeze them to add to future cooking straight from frozen.
19 Asparagus stays fresher for longer if you stand spears in a glass with 2.5cm water, cover loosely with a plastic bag and keep chilled.
20 If you have a big bag of spinach, wilt it down in a little butter while super-fresh – it'll keep for longer in the fridge.
21 Make a veggie stock. Save scraps – like the butts and peelings of carrots, papery garlic skins and pepper cores – in the freezer or for a few days in the fridge. Then simmer with a bay leaf and any herbs lying around.
22 Reuse your juicer pulp. For veg such as celery and carrot, leftover pulp makes a great base for soups and stews. Just fry in a little olive oil with onion and garlic.
23 Store soft herbs like parsley and coriander in a jar or glass with 2.5cm water in the fridge, or at room temperature for basil.
24 Once the last gherkin has been eaten, don't discard the brine – cut a cucumber in half lengthways and slice. Fill the jar, ensuring the cucumber is completely covered in the liquid, then pop in the fridge, and after a couple of days you'll have pickled cucumber.
25 There's no need to throw away watercress stalks – they have a deliciously peppery flavour. Try finely chopping them to stir through a tomato pasta sauce, or fold into mayonnaise to serve alongside chicken or fish.
26 When you have accumulated enough valuable scraps, whether they are meat or vegetables, remember that you can freeze them to make a nice broth, soup or stew another day.
Waitrose
There's no need to throw away watercress stalks – they have a deliciously peppery flavour."
ROOTS AND OTHER VEG
27 Root veg going to waste? Slice thinly and deep-fry in 190ºC oil until golden. Season with salt for chunky homemade crisps.
28 Revive and crisp carrots by cutting a slice off the bottom and placing them in a glass of water.
29 Forget about peeling your spuds or indeed any veg, which avoids waste and saves money and time, while providing extra nutrients.
30 If you are keen to peel your spuds, make potato peel fries. Drop the peelings into a bowl of cold water to prevent them from turning brown and to rinse off the excess starch. Pat dry on kitchen paper, then deep fry in vegetable oil until crisp. Serve with a simple soured cream and chive dip.
31 Try this nifty trick for ginger peelings: dry in a low oven and store in an airtight container for ginger tea. Or any leftover ginger can be thinly sliced (no need to peel it) and infused with hot water for instant tea.
32 You can also do this with lemongrass stalks. Add a squeeze of lemon and a spoonful of honey to taste.
33 Save brown onion skins to make stock. Not only do they provide a delicious flavour, they also give the liquid a lovely golden brown colour.
34 Don't store mushrooms in plastic or airtight containers, as this prevents airflow and will speed up spoilage. If mushrooms are turning brown, don't bin them – just peel the outer layer and discard any dry stalks.
35 If you have too much cauliflower or cabbage, pickle it, including the leaves, using a mix of one-part vinegar, one-part sugar and one-part water. You can add caraway seeds, thyme, a bay leaf and maybe some fresh garlic and sliced onion. After using the pickles, you can use the leftover liquid in salad dressing.
36 Make a 'fridge curry' with leftover vegetables. Simply roast, fry or boil first and add to your favourite curry sauce.
37 Grate leftover courgettes, carrots and onions into pancake batter with some cheese or spices. Fry until golden on both sides.
38 Tomatoes too soft or bruised to serve fresh? Chop and fry them with garlic and herbs for a pasta sauce.
39 Keep leftover veg in boxes or bags at the front of the fridge, preferably at eye level, where you're more likely to notice them.
Waitrose
Forget about peeling your spuds or indeed any veg."
MAKE MORE FROM MEAT AND FISH
40 Transform leftover shepherd's pie by wrapping it in ready-made puff pastry, baking until piping hot throughout and serving with brown sauce. A pie in a pie!
41 Strip your chicken. Once you've had your roast, take your cooled chicken frame and tear all the meat off the bone. Don't forget the legs, the wings and the dark meat on the back. There is far more meat than you think, and it's ideal too for a salad, pie or burrito.
42 Make stock with your stripped carcass, which you can turn into chicken soup by adding veg, leftover chicken and a pulse, pasta or grain. A little miso paste will add umami depth.
43 Leftover roast beef is the perfect meat to create tacos. Turn it into strips and flavour it with sautéed onions, peppers and a little chipotle paste.
44 Try different meats. Waitrose is committed to buying whole carcasses from farmers, so nothing is wasted.
45 Serve strips of leftover beef with pappardelle pasta, or turn it into beef stroganoff. Even easier, pile beef slices onto soft white bread with plenty of mustard mayonnaise and rocket for the ultimate sandwich.
46 Consider buying frozen fish. It's often cheaper than fresh, and you can take as much as you need straight from the freezer.
47 If you have leftover cooked beef or lamb, chop it up and stir in lots of fried onions, garlic and herbs. With this, you can make a shepherd's pie but instead of topping with mash, use coarsely grated parsnips and carrots. It's less faff and tastes delicious, and also uses up any stray root vegetables.
48 Blend leftover smoked mackerel with lemon juice and a touch of Greek yogurt or cream cheese for a delicious sandwich filler, pâté or dip. Dill and freshly ground black pepper are tasty additions.
49 Did you know that cooked fish can be stored in the fridge for up to three days? Turn it into a fish pie, fish cakes, croquettes or pâté.
50 Leftover mash? Make fish cakes by adding canned salmon, salad onions and a beaten egg. Shape into patties, coat in flour and fry for a quick and delicious fish supper.
51 Leftover fish? Warm it through with an oil infused with garlic and thinly sliced chillies. Guajillo chillies are best as they're mild and sweet, but with a toasted chilli flavour. Sprinkle the fish with lots of parsley, squeeze over lemon and serve with steamed potatoes to mop up the garlicky juices.
Waitrose
Consider buying frozen fish. It's often cheaper than fresh, and you can take as much as you need straight from the freezer."
SMART WAYS WITH DAIRY AND EGGS
52 Freeze milk. If it's full fat rather than skimmed or semi, the cream will separate when it defrosts, but give it a good shake and it'll taste completely normal.
53 Old parmesan rinds can enrich soups and stews. For a flavourful leek and potato soup, drop in a few rinds while the potatoes are softening, then take them out before serving.
54 Freeze hard cheese by cutting it into small portions or grating some into a plastic container, ready to top lasagnes and other tray bakes.
55 Too much yogurt? Make a marinade for meat, use it in curry for extra creaminess, mix it into cake batter for a moister texture, or make a dip with chopped herbs.
56 You can freeze yogurt, either in its tub or decanted into small cups. Once it's defrosted, give it a stir if it has separated.
57 Leftover yolks from meringue making? Beat together with a little salt or sugar and freeze in small quantities for pastry, sauces and custards.
58 If you don't want to freeze spare egg yolks, they'll keep in the fridge for two days. Time to put a creamy carbonara or crème brûlée on the menu.
59 Like yolks, egg whites can be frozen for up to six months. Store in small cups or ice cube trays, then defrost to use as a glaze for pastry or bread.
60 You can also make pancakes and omelettes using only egg whites, which makes them less rich.
61 Scattering eggshells in the garden provides a natural way to keep the slugs at bay. It also adds calcium to the soil.
Waitrose
Old parmesan rinds can enrich soups and stews."
THE GREAT BAKE SAVE
62 Not going to finish all of the fresh-from-the-bakery sourdough or cake you bought for the weekend? Slice and freeze, then defrost the cake when you're ready. The bread can be toasted straight from the freezer.
63 Get your own back on kids who don't eat their crusts. Soak them in an egg and milk mixture, top with raisins and honey, then bake to make a leftover bread and butter pudding.
64 Dried out bread works perfectly well in French toast. Beat a couple of eggs with some milk, add cinnamon if you like, then soak the bread in the mixture before frying.
65 Mix breadcrumbs with egg and chopped herbs, then form dumplings to boil for a few minutes in a broth.
66 Bread rolls past their best? They can be improved by a spritz with water, then five minutes in a hot oven, or you can turn them into breadcrumbs in a blender. Freeze the breadcrumbs if you have too many.
67 Use flatbreads in a fattoush salad or crusty bread in panzanella – drier bread is best to absorb the delicious dressings.
68 Tear bread that is a few days old into chunks, toss in oil, and bake in a hot oven for about 10-15 minutes, turning halfway. Store the croutons in an airtight container to use in soups or salads.
69 Gather crumbs from your breadboard and store in a tub in the freezer. Once full, use them to make chicken nuggets, fish goujons or breaded fish cakes.
70 Cake that's a bit past its best can act as a super thickener for a milkshake, especially chocolate. Blend it with chilled milk.
71 Cake can be transformed by a short stint in the oven. You could break it up, then add a little milk and a few pieces of dark chocolate for hot cake pudding.
72 Make cake pops – kids will love them! Crumble up leftover cake and mix with some icing to bind it together. Roll it into balls and then leave to harden in the fridge for an hour. Coat them in melted chocolate for extra tastiness.
73 Fruit cake that needs eating can jazz up vanilla ice cream. Crumble it into the ice cream and return to the freezer.
Waitrose
Make cake pops – kids will love them!"
STORE-CUPBOARD ESSENTIALS
74 Keep a list on your phone of what's in your dried food store, fridge and freezer, to stop buying ingredients you already have. There are lots of apps to make this easier, such as Fridge Pal, which allows you to keep a shopping list, an inventory of your cupboards and a meal planner in one place.
75 Nearly empty jars of mayonnaise, mustard, chutney, horseradish and chilli sauce can be transformed into salad dressing by adding oil, vinegar and chopped fresh herbs to the container, replacing the lid and giving it all a good shake.
76 Turn leftover pasta into a lunchtime salad. Toss in oil and freeze single portions. Defrost in the fridge in the morning, and at lunchtime stir in tomatoes, cucumbers and feta.
77 If you've got leftover beans and pulses, mash or blend with some garlic, lemon juice, olive oil and any herbs lying around for a houmous-style dip.
78 Use out-of-date nuts, dried fruit, cheese and oats to make fat balls with suet or lard for the birds in your garden.
79 Cool leftover cooked rice quickly, refrigerate, then use to make burritos by mixing it with canned refried beans. Add chopped avocado, soured cream and cheese, wrapping with a tortilla. Use cooked rice within 24 hours and ensure it is piping hot before serving the burritos.
80 Make arancini from cold risotto. Tuck a piece of mozzarella inside a ball of rice, then coat in breadcrumbs and fry.
81 Add leftover spaghetti, even with sauce attached, to beaten eggs, grated parmesan and chopped herbs, then pour into a frying pan to make a tortilla.
82 Use the water from a can of chickpeas or other pulses to make a vegan meringue. Called aquafaba, it contains protein just as egg whites do.
Waitrose
Keep a list on your phone of what's in your dried food store, fridge and freezer, to stop buying ingredients you already have."
SHOPPING, STORING AND SERVING
83 Do a monthly shop for long-life goods you know you will use. Limiting the amount you buy to one tote bag's-worth makes sure you do not keep adding extra things you don't need.
84 Freeze leftovers. If you've made something like pasta or rice with a sauce, freezing the sauce separately will work better. Many chilled convenience meals freeze well too. If you know you're not going to eat something on time, pop it in the freezer before the use-by date, then defrost completely before cooking, following the pack instructions.
85 Freeze ginger whole on the day of purchase and, using a microplane, grate as much as you need into dishes.
86 Make 'fridge soup' every week or so with any vegetables and herbs that look past their best, then freeze in portions.
87 Check the index of your favourite cookbooks or look online for ideas on how to use up what you have in your veg drawer.
88 A rigid weekly menu plan might not be for you, but a note on the fridge detailing the items that need using up, prioritising use-by dates, can be very helpful.
89 Some foods keep better outside the fridge. This includes onions, bread and potatoes. Store them in a cool dark place, like a bread bin or cupboard.
90 Treat waste like ingredients. We suggest making a habit of chopping up broccoli stalks to cook and mashing potatoes with their skins on.
91 Be fruit savvy. Apples, pears and citrus fruit will keep longer in the fridge. Pineapples and bananas last longer outside.
92 Knowing means preventing. By knowing what meals you are going to cook, you can plan your week and buy the correct amount of food, saving unnecessary surplus.
93 Separate bananas and apples to prevent them from overripening. They both produce a lot of ethylene gas, which will cause fruits to ripen faster.
94 The average fridge temperature is set to 7ºC, which is too warm for most foods and can lead to them going off. Check the instruction manual of your fridge to see which setting is below 5º.
95 Serve meals at the table from large dishes, rather than plating up beforehand. Once food is on plates, if it's uneaten, it's more likely to be wasted.
96 To make sure that you don't end up with an overloaded freezer – with lurking UFOs (unidentified freezer objects) – why not aim to eat one meal a week from the freezer? Try to remember to label everything before you freeze it.
97 Understand date labels. You can still eat food after its best before date, but it won't be at its best (dried pasta, for instance, can be eaten three years after its best before date). Use-by dates should be taken more seriously, however you can freeze food up to and including the use-by date.
98 Having a poke around in your food waste bin is one of the best ways to understand exactly what you are chucking away each week – and how you can avoid it. Just don't forget to give your hands a really good
wash afterwards!
Waitrose
Knowing means preventing. By knowing what meals you are going to cook, you can plan your week and buy the correct amount of food, saving unnecessary surplus."
TIME TO GET COMPOSTING
99 The most environmentally friendly way to deal with food waste is to home compost it, which means you produce compost to use in your – or someone else's – garden. This not only prevents food rotting and producing methane in landfill, but also means it will not create a further transport footprint.