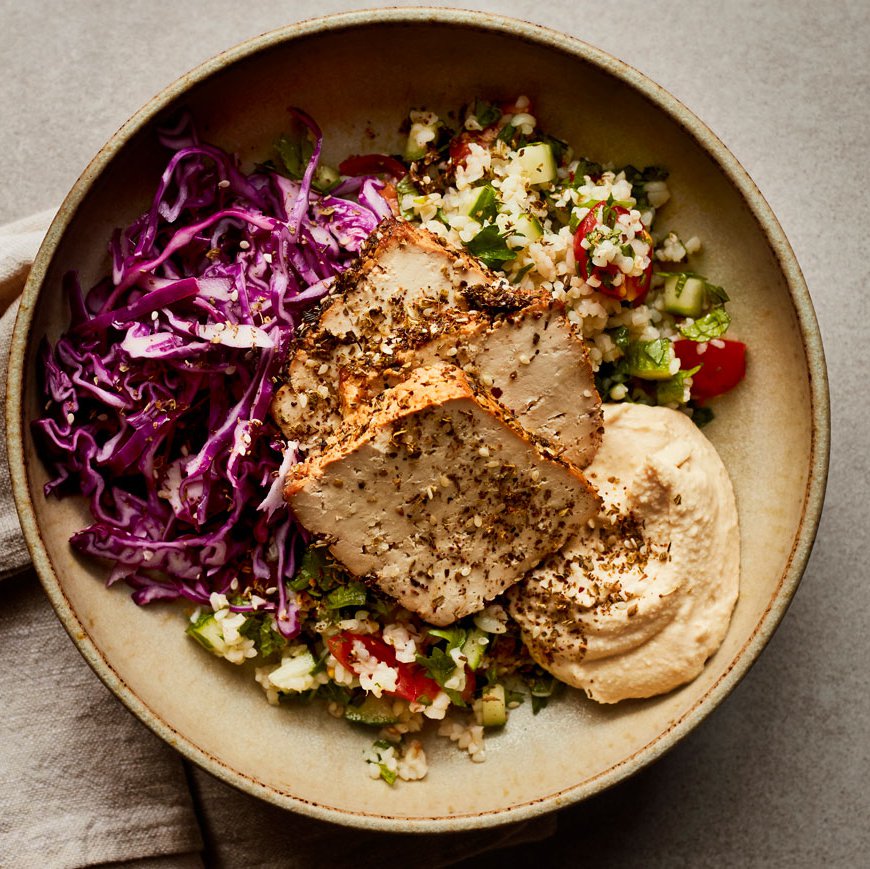 Whether you follow a vegan diet or are just trying to make some plant-based swaps, our guide to vegan ingredients – and how to use them – will help you get started.
TOFU
This versatile ingredient, derived from soya beans, has little flavour so can be used in a variety of sweet and savoury dishes. You can find it as a firm block, ideal for chopping into chunks or slices and frying for a crisp edge; or soft and silken, where it can be made into a vegan take on scrambled eggs or used in desserts and sauces.
JACKFRUIT
Cooked unripe jackfruit has a texture similar to slow-cooked pulled meat, which makes it an excellent meat alternative in curries, stir fries, salads and sandwiches. Its mild flavour also makes it the perfect vehicle for spicy sauces and marinades. Buy it canned, then drain and mix the jackfruit with tomato salsa and turn into nachos, baked in the oven with tortilla chips and grated vegan hard cheese.
Waitrose
Rich in vitamins and minerals, beans also high in fibre so can help you to feel full."
SOYA PROTEIN AND MYCOPROTEIN
Soya protein is commonly used as a meat substitute. It makes a great replacement for minced beef and can be turned into vegan meatballs, burgers and sausages. Since it's made from soya, it has the same health benefits: it's high in protein, low in fat and a source of fibre. Mycoprotein is found in Quorn's vegan products; made by fermenting a natural, nutritious fungus, it's high in fibre and low in saturated fat.
SEITAN
Pronounced say-tan, seitan is made from protein-rich wheat gluten, which gives bread its fluffy texture. It's the basis of many meat alternatives because of its texture and ability to absorb flavours. You'll find it as burgers, slices, koftas and more.
BEANS AND PULSES
Don't overlook these basic store cupboard favourites – from lentils to butter beans, these cheap and cheerful ingredients are great sources of plant protein. Rich in vitamins and minerals, they're also high in fibre so can help you to feel full.
TEMPEH
Originating from Indonesia, tempeh is made from fermented soya beans. This high protein ingredient is firmer and denser than tofu, with an earthy, nutty flavour and chunky texture. Traditionally, it is coated in a light batter and fried but can be used in many ways: try marinating and adding to a stew or curry, glaze it with barbecue sauce and bake or fry, or whizz in a blender until you have a minced beef texture and use in a vegan bolognese.
AQUAFABA
The liquid in a can of chickpeas that we'd normally pour down the sink is in fact a very useful egg substitute. When whisked, it will froth and expand as it traps air so can be used to replace egg whites in meringues and marshmallows, and whole eggs in cakes, mayonnaise and Yorkshire puddings. Two tablespoons of aquafaba are equivalent to approximately one egg white, or three tablespoons for one whole egg.
DAIRY-FREE CHEESE ALTERNATIVES
There are lots of cheese substitutes available so you don't have to miss out on some of your favourite dishes. Use an alternative to soft cheese for creamy sauces and making vegan desserts, and a harder 'cheese' for grating over pasta, adding to sandwiches and topping plant-based burgers. Some recipes call for cashew nuts to be soaked overnight, then whizzed to make cashew 'cream cheese'.
DAIRY-FREE MILK ALTERNATIVES
You'll be spoilt for choice with the ever growing variety of milk substitutes on the market derived from nuts, soya, hemp and oats. Find your favourite and have it on hand for cooking, pouring over cereal and for stirring into tea and coffee. Many are fortified with vitamins and minerals including calcium. Pick an unsweetened variety if you're watching your sugar intake.
NUTRITIONAL YEAST
With a savoury, nutty flavour similar to Parmesan, nutritional yeast flakes are perfect for adding that umami-rich taste to all kinds of dishes. They're made from inactive yeast and are rich in B vitamins, folic acid and zinc. Sprinkle into sauces, over pasta – anywhere you need some oomph.
MISO PASTE
This traditional Japanese seasoning is made from fermented soy beans and is more versatile than you might think. It's great for marinades and dressings, brushing over vegetables before roasting or grilling, and stirring into soups and noodle dishes.