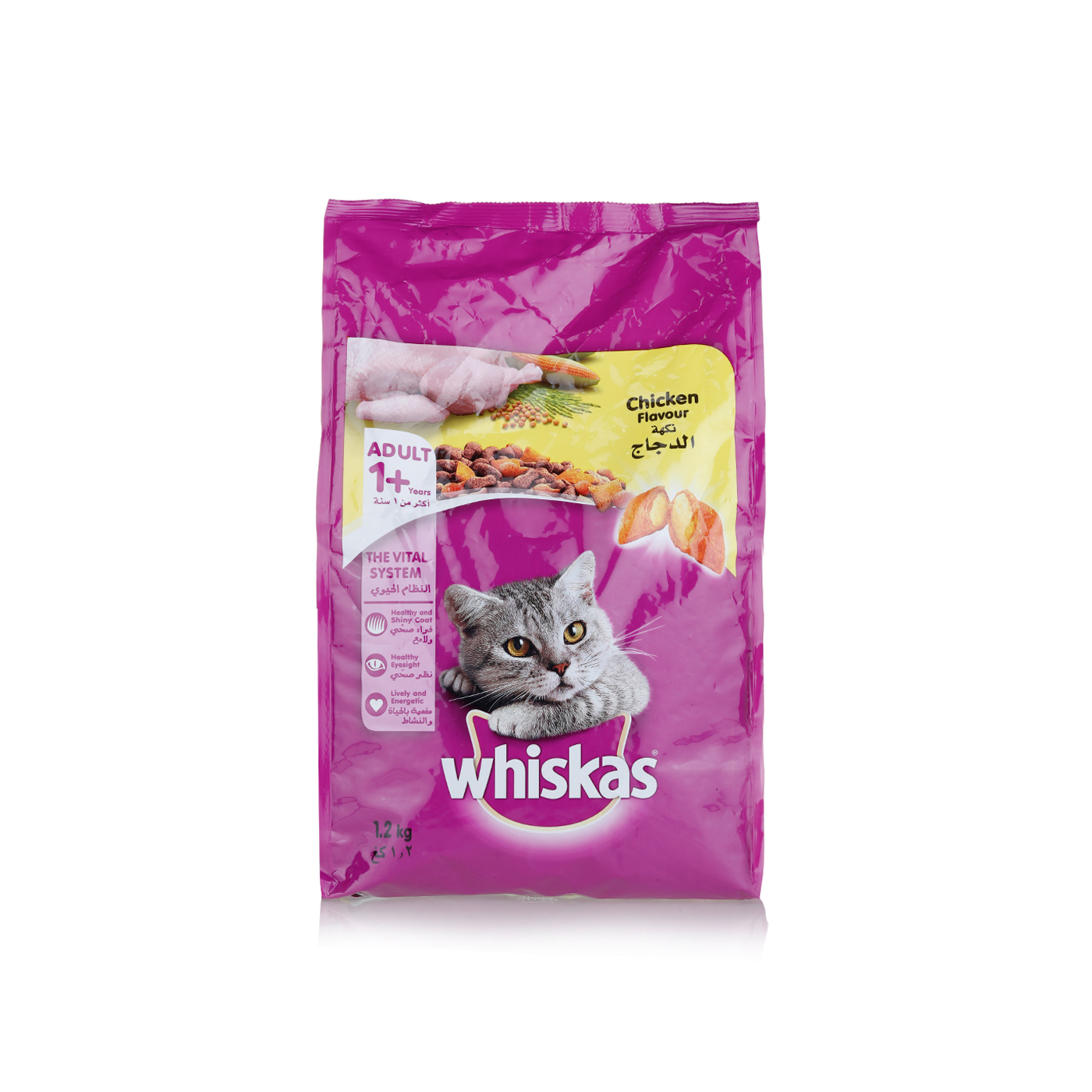 Whiskas dry cat food for adults 1+ years with chicken 1.2kg
each
Whiskas dry cat food for adults 1+ years with chicken 1.2kg
each
Whiskas knows that your indoor cat has specific needs. That's why they created Whiskas chicken dry food for indoor cats starting 1+ years. Whiskas tasty Chicken dry food is made with high-quality ingredients with the tastiest of flavours! It helps offer complete nutrition, putting your cat on the path to health and happiness. The formula is created with 100% complete nutrition for your indoor adult feline for healthy teeth and fur, since the only thing that can make your furry friend happier than a full tummy is a healthy, shiny coat. A cat's fur is delicate and special, so it deserves a nutritious diet. That's why Whiskas has given its dry cat food a complete re-vamp. These convenient AAFCO certified kibbles are so tasty that they please even the pickiest of palates. Whiskas chicken flavour is packed with protein to help maintain a healthy weight, while omega fatty acids support skin and coat health. The formula also contains taurine, which helps improve eye vision in older cats and reduces the risk of heart disease in cats. So, if you're looking for a tasty way to keep your aging feline happy, this dry food is the perfect fit!
Ingredients
Ingredients:
Wholegrain cereals (corn, rice), animal protein (poultry and poultry by product, ocean fish), plant protein (corn gluten meal, brewers dried, soy bean meal), dietary fibre (sugar beet pulp)fat & oil (palm stearin, soy oil), minerals (calcium, phosphorus, iron, zinc, copper, manganese, selenium), vitamins (choline, E, B5, A, B2, B1, B6, B3, B9, B12, D), flavourings (flavour blend), colours (titanium dioxide, tartrazine, sunset yellow, indigo carmine, ponceau 4R), preservatives (antioxidants natural liquid R30, termox II antiox., potassium orbate), food additive: (iodised salt, taurine, wheat flour).

Allergy Advice:

Storage
Store in a cool, dry place.
Product Details
Whiskas cat food products blend nutrition and flavour purr-fectly, keeping your feline friends happy and healthy.
View / Add Review
(0 Comments)
THE BEST FROM OUR PRODUCT RANGES
We've put together a range of exceptional products including the most flavoursome cheeses and high grade meats sourced exclusively for you