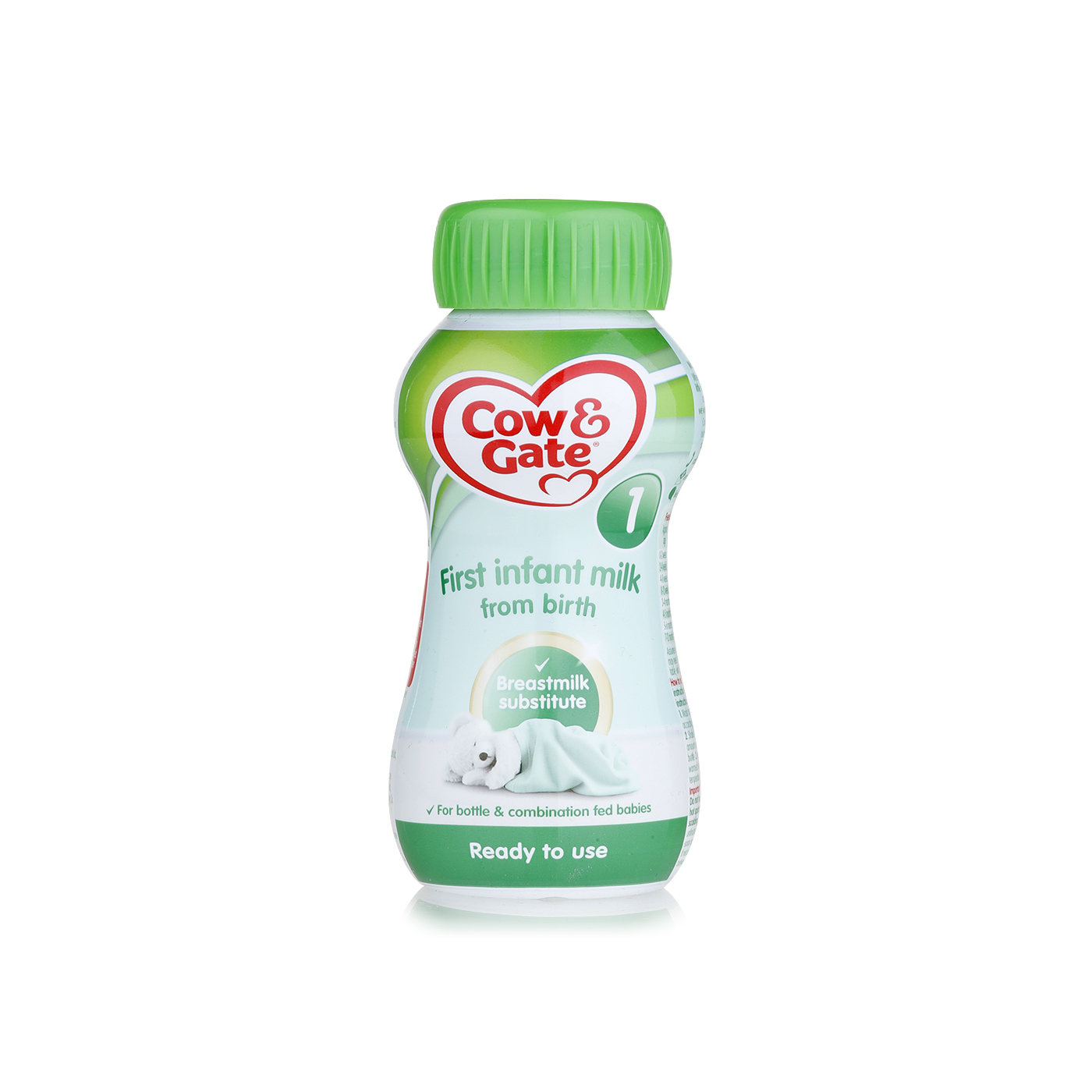 Cow & Gate first infant milk formula stage 1 200ml
each
Cow & Gate first infant milk formula stage 1 200ml
each
Cow & Gate first infant milk is suitable from birth onwards, if your baby is not being breastfed or for combination feeding. This ready-to-drink bottle is perfect for travelling or when you are simply on the go.
Per Portion / A serving contains
| | | | | |
| --- | --- | --- | --- | --- |
| Energy | Fat | Saturates | Sugars | Salt |
| N/A | 3.40g | 1.50g | 7.20g | N/A |
| 66.00 kcal | Medium | Low | Medium | N/A |
| N/A | N/A | N/A | N/A | N/A |
RI = % of your daily reference intake
Ingredients
Ingredients:
Demineralised Water, Skimmed Milk, Lactose (from Milk), Vegetable Oils (Palm Oil, Canola Oil, Coconut Oil, Sunflower Oil, Single Cell Oil) (Contains Soy Lecithin), Galacto-Oligosaccharides (GOS) (from Milk), Whey Protein Concentrate (from Milk), Fructo-Oligosaccharides (FOS), Potassium Citrate, Calcium Phosphate, Acidity Regulator (Citric Acid), Potassium Chloride, Fish Oil, Vitamin C, Calcium Hydroxide, Sodium Chloride, Choline Chloride, Calcium Citrate, Potassium Hydroxide, Magnesium Carbonate, Taurine, Inositol, Iron Lactate, Vitamin E, Zinc Sulphate, Uridine 5'-Monophosphate Disodium Salt, Cytidine 5'-Monophospate, Vitamin A, L-Carnitine, Adenosine 5'-Monophosphate, Inosine 5'-Monophosphate Disodium Salt, Vitamin D3, Niacin, Pantothenic Acid, Guanosine 5'-Monophosphate Disodium Salt, Copper Gluconate, Sodium Selenite, Potassium Iodide, Folic Acid, Biotin, Riboflavin, Vitamin B12, Vitamin K1, Thiamin, Vitamin B6, Manganese Sulphate

Allergy Advice:
Contains fish milk soya
Storage
Store in a cool dry place before opening. Once opened, unused milk still in this 200ml carton must be discarded within 2 hours.
Product Details
Infant formulas are foods designed to feed babies and infants less than 12 months of age. Follow on milks are for babies 12 months and above. These are normally prepared for bottle-feeding and are in a powdered form that is mixed with water or another liquid and is usually considered a substitute for breast milk. The manufacturers of infant formulas claim that the composition of these formulas is almost the same as that of the mother''s milk. Commonly available infant formulas contain purified whey and casein from cow''s milk as a protein source, a blend of vegetable oils as a source of fat, lactose as a source of carbohydrates, a mixture of vitamins and minerals, and other materials depending upon the manufacturer. Although the best food for young ones is breast milk and it is not favourable to replace it with any infant formula, a wide range of infant formulas with attractive packaging are available in the market, which draws the attention of consumers, increasing the market of infant formulas.
View / Add Review
(0 Comments)
THE BEST FROM OUR PRODUCT RANGES
We've put together a range of exceptional products including the most flavoursome cheeses and high grade meats sourced exclusively for you