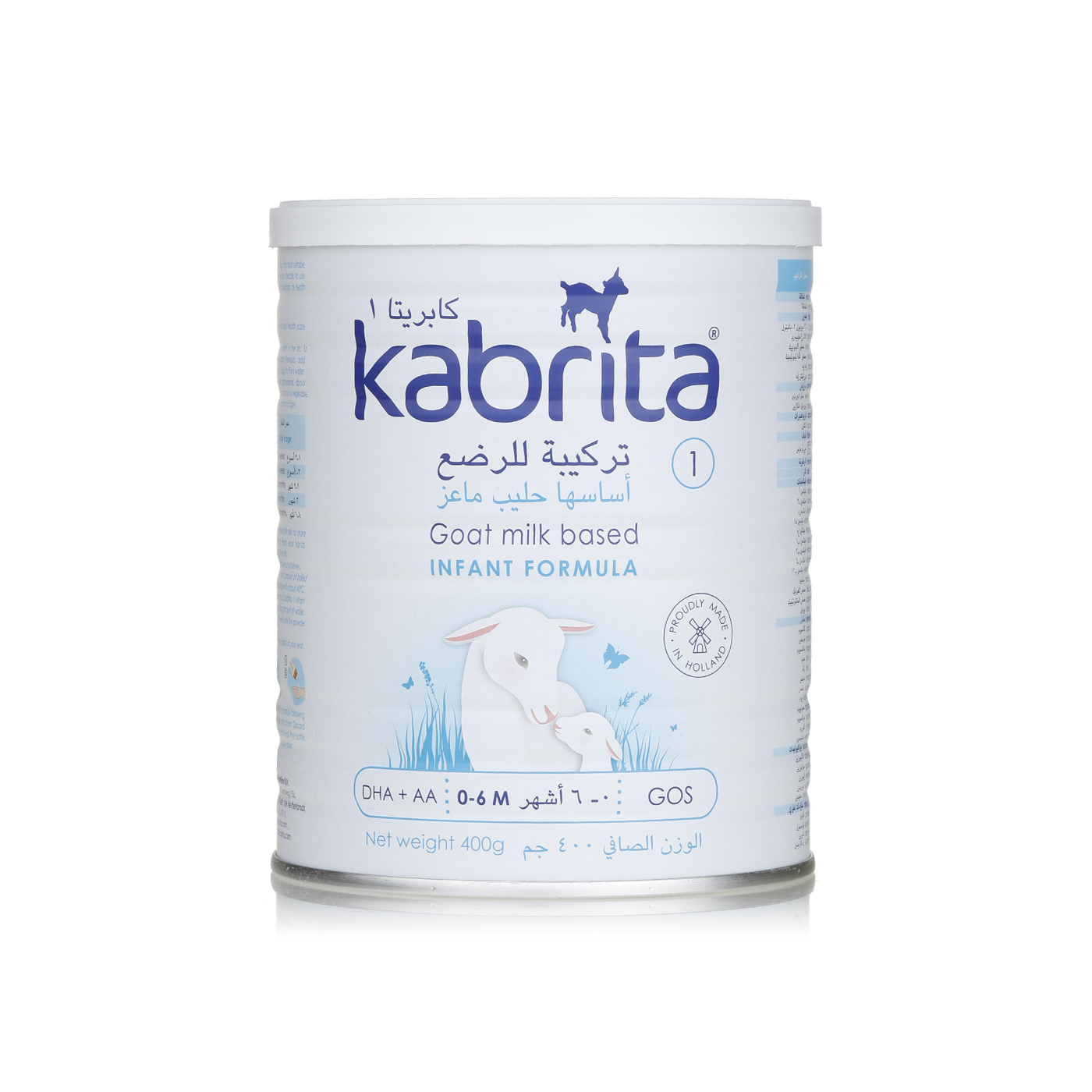 Kabrita goat milk infant formula stage 1 400g
each
Kabrita goat milk infant formula stage 1 400g
each
Suitable for babies 0-6 months. This goat milk formula contains all the vitamins and minerals which are necessary for your baby's development and is designed for little ones who are either allergic to cows'' milk or suffer with intolerances. It''s easy to digest, rich in nutrients, low in Alpha s1-casein and has a mild taste.
Ingredients
Ingredients:
lactose (milk), skimmed goat milk, vegetable oils (coconut oil, rapeseed oil, sunflower oil) 1,3-Dioleoyl 2-palmitoyl triglyceride, goat whey protein concentrate powder (milk), galacto-oligosaccharides (milk), glucose syrup solids, minerals (calcium carbonate, tri potassium citrate, tri sodium citrate, sodium chloride, potassium chloride, magnesium chloride, ferrous sulphate, zinc sulphate, tri calcium phosphate, copper sulphate, manganese sulphate, potassium iodide, sodium selenate), marine oil containing DHA (fish), choline bitartrate, arachidonic acid-rich oil, L-phenylalanine, vitamins (L-ascorbic acid, sodium L-ascorbate, niacinamide, calcium-D-pantothenante, DL-a tocopheryl acetate, riboflavin, thiamin hydrochloride, retinyl acetate, pyridoxine hydrochloride, folic acid, phytomenadione, D-biotin, cholecalciferol, cyanocobalamin), taurine, inositol, nucleotides (cytidine-5- monophosphate, inosine-5'-monophosphate di sodium salt, uridine-5- monophosphate di sodium salt, adenosine-5-monophosphate, guanosine-5-monophosphate di sodium salt), L-carnitine, L-tryptophan

Allergy Advice:
Contains milk
Storage
Store powder in a cool, dry place. Do not refrigerate.Use powder within 4 weeks of opening. Ready-to-drink bottles can be stored at room temperature until needed.
Product Details
Kabrita Goat Milk is a complete range of infant, follow-on and growing up formulas that are set with the highest standards of quality. Goat milk has a unique fat and protein composition, which makes it naturally easy to digest. The smaller fat globules and relatively high amounts of short- and medium-chain fatty acids found in goat milk are relatively easy for the body to break down. In addition the low amount of αs1-casein protein in goat milk helps to form a softer curd in the stomach, which passes through the digestive system more gently.
View / Add Review
(0 Comments)
THE BEST FROM OUR PRODUCT RANGES
We've put together a range of exceptional products including the most flavoursome cheeses and high grade meats sourced exclusively for you