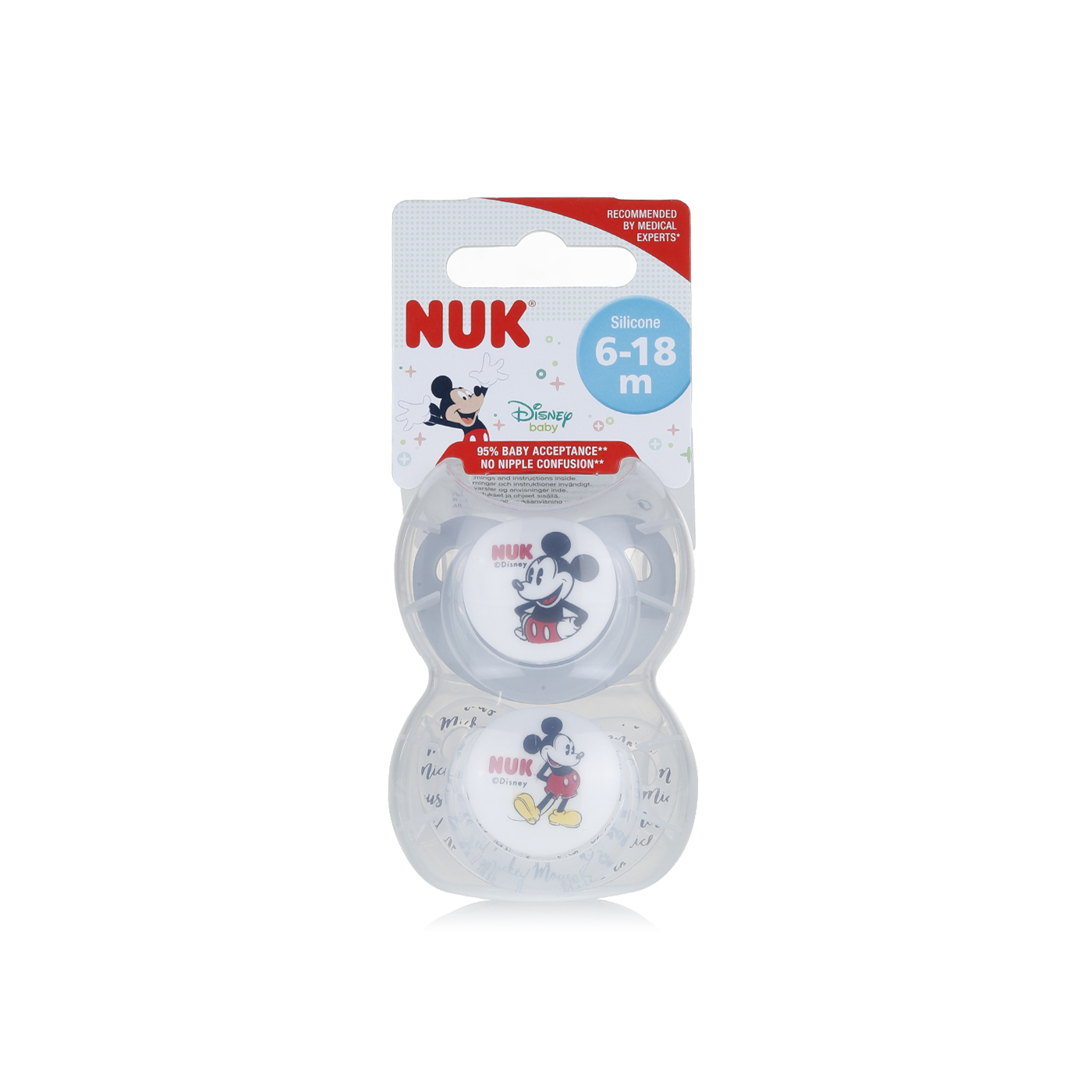 NUK Mickey Mouse silicon soother 6-18 months x2
each
NUK Mickey Mouse silicon soother 6-18 months x2
each
NUK invented a soother that is right for the jaw and have now made the original shape even better. It is modelled on a mother''s nipple as she breastfeeds, fitting optimally into the mouth when the baby sucks on it. The special thing about this soother: it is particularly thin and narrow to reduce the pressure on the teeth and jaws. The flat baglet and the smooth underside ensure a pleasant feeling in the mouth and give the tongue enough space for natural sucking movements. NUK soothers are an optimal fit in children''s mouths and are therefore accepted by babies particularly quickly, providing relaxation for both babies and their parents.
Ingredients
Ingredients:
Silicone and Polypropylene

Allergy Advice:

Storage
Wash in warm, soapy water and rinse thoroughly. Sterilise if preferred way of cleaning.
Product Details
The best pacifiers can do wonders when it comes to keeping your baby content 'Äî sucking on them can instantly calm down a fussy baby. A pacifier (American English) or dummy (British English and Australian English), also known as a binky, soother (Canadian English), teether or Dodie is a rubber, plastic or silicone nipple given to an infant to suck upon. In its standard appearance it has a teat, mouth shield, and handle. Nipples are usually made out of silicone or latex. Latex is generally softer, but some babies may have latex allergies, so you''ll have to weigh your options about what type of material you want to use. Silicone is the more popular choice for pacifiers and it can also be put in the dishwasher.
View / Add Review
(0 Comments)
THE BEST FROM OUR PRODUCT RANGES
We've put together a range of exceptional products including the most flavoursome cheeses and high grade meats sourced exclusively for you