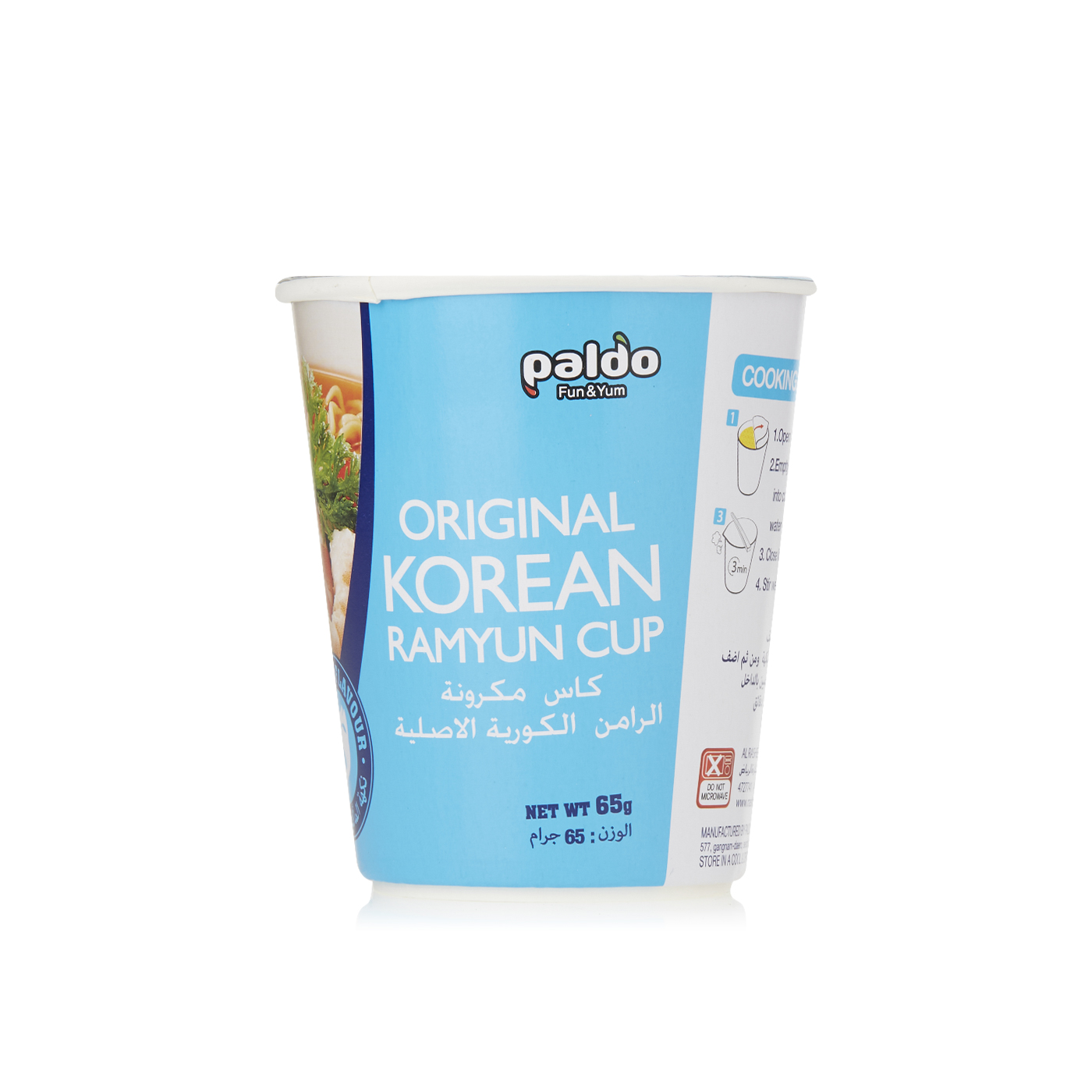 Paldo original Korean ramyun cup seafood flavour 65g
each
Paldo original Korean ramyun cup seafood flavour 65g
each
This delicious instant noodle cup is an easy-to-make meal, and has a tasty seafood flavour.
Ingredients
Ingredients:
Noodle: wheat flour, modified starch, potato starch, vegetable extract, salt, alkaline agent, guar gum, palm oil, green tea extract. Soup base: salt, sugar, monosodium l-glutamate, disodium 5'-inosinate, disodium 5'-guanylate, disodium succinate, maltodextrin, chicken flavor powder, broth powder, vegetable cream powder, mussel extract powder, powder kastuobushi, soybean sauce powder, cuttlefish powder, shrimp seasoning powder, seafood seasoning powder, crab base powder, onion powder, garlic powder, black pepper powder, ginger powder, corn starch, calcium phosphate tribasic, seafood seasoning oil. Flakes: green onion flake, shrimp flavor flake, dried seaweed, dried carrot.

Allergy Advice:
Contains wheat, mussel, cuttlefish, chicken, crab, corn, soybean and shrimp. It can cause hypersensitivity.
Storage
Store in a cool, dry place.
Product Details
From small beginnings in 1983, Paldo's product range has since grown to include all types of instant noodles, various types of beverages, and traditional Korean foodstuffs which is now exported to over 70 different countries.
View / Add Review
(0 Comments)
THE BEST FROM OUR PRODUCT RANGES
We've put together a range of exceptional products including the most flavoursome cheeses and high grade meats sourced exclusively for you